Baby among wounded in attack near Lions' Gate; attacker stabbed one victim, shot at group of tourists before being neutralized by police.
YNet: Yael Freidson, Rotem Elizra, Elior Levy, Omri Ephraim – Latest Update: 03/10/15

Two Israeli males were killed while a two-year-old baby, as well as a 22-year-old woman, were wounded Saturday night by a Palestinian attacker in the Old City of Jerusalem near Lions' Gate.
The two males were evacuated to hospital in critical condition and later declared dead. The baby was lightly wounded and the woman was in moderate-serious condition.
The baby and its parents were on their way to pray at the Western Wall.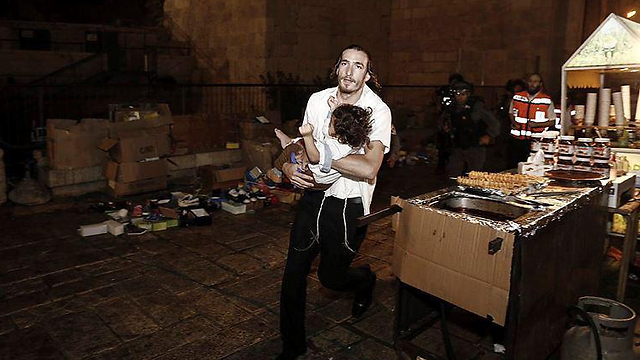 The wounded baby. (Photo from Twitter)

One female witness manage to escape the scene and alert security forces located some 50 meters from the scene. A police officer rushed to the area where he shot and killed the attacker.

<!-comments-button-->