The victims (Photo: Haztola)
Parents murdered while four children physically unhurt after terrorists in vehicle fire at victims' car on road between Itamar and Elon Moreh.
By YnetNews: Elisha Ben Kimon, Itay Blumental and Rotem Elizera
A husband and wife in thier 30s, Eitam and Na'ama Henkin from the settlment of Neria, were killed in a drive-by shooting attack on the road between Itamar and Elon Moreh in the West Bank on Thursday night. Their four children aged 9, 7, 4 and 4 months were in the car and were said to be physically unharmed but treated for shock.
The IDF confirmed that two Israelis were killed in the shooting attack, and that its forces were conducting sweeps in the area in an attempt to capture the perpetrators.
"It was a very difficult sight," said MDA paramedic Boaz Malka. "We saw a car in the middle of the road with a man in his thirties next to it with wounds to his upper body, and a woman in her thirties inside the car also seriously wounded in her upper body. They were without signs of life, and unfortunately we had to declare them dead at the scene."
A Hamas spokesman praised the attack by the "brave resistance," calling the murderous act "heroic," and vowing to continue the struggle against Israel. The organization call for its members to carry out more attacks against Israel.
The Popular Resistance Committees also "blessed" the attack, saying it was a natural reaction to "Israeli crimes."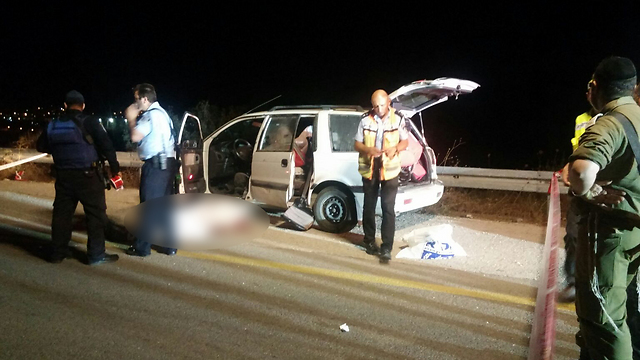 (Photo: Zaka)

Knesset opposition chairman Isaac Herzog, said on his Twitter account: "The murder in Samaria which immediately put an end to the holiday jubilation, is abhorrent and extremely painful. I send my condolences to the family and the community at large which is hurting and feeling such pain. We must let the IDF and security forces act quickly and steadfastly in order to capture these murders."

<!-comments-button-->