The grave ofEitam and Na'ama Henkin. (Photo: Eli Mendelbaum)
Thousands attend funeral for Eitam and Na'ama Henkin, victims of West Bank attack that orphaned 4 children ages 8 months to 9 years.
By: Elisha Ben Kimon, Yael Freidson
Eitam and Na'ama Henkin were laid to rest Friday morning at Jerusalem's Har HaMenuchot in an emotional ceremony attended by thousands after being killed Thursday night in a shooting attack on their vehicle in the West Bank.
The couple's four children were in the vehicle during the attack, but escaped unharmed. The oldest, 9-year-old Matan, took to the stage to say Kaddish for his parents as he struggled to contain his tears.
Additional family members as well as President Reuven Rivlin eulogized Eitam and Na'ama, recalling their characters and decrying attacks such as that on the Henkin family.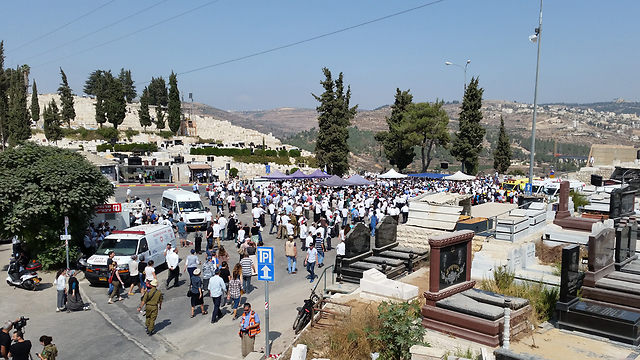 Thousands attended the funeral. (Photo: Eli Mendelbaum)

Chief Rabbi David Lao was also present for the funeral and expressed first and foremost concern for the children who survived the attack.

<!-comments-button-->